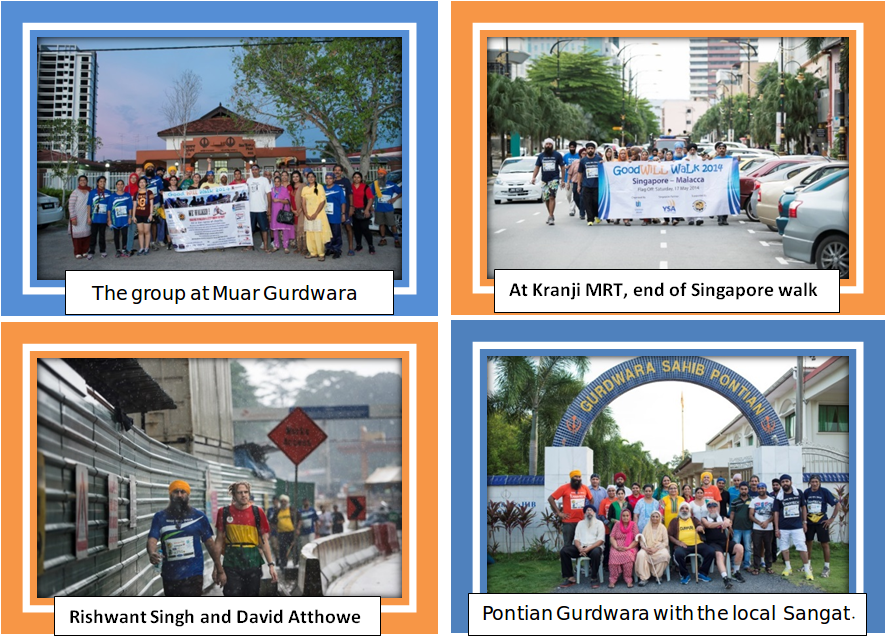 Six participants walked 300 km over eight days from Silat Rd Gurdwara in Singapore to Melaka Gurdwara in conjunction with the Sant Baba Sohan Singh Ji's yearly gathering in Melaka, which is the largest gathering of Sikhs in South East Asia. The walk, which was dedicated to the families of the passengers and crew who lost their lives when Malaysia Airlines MH370 disappeared mid-flight on 8th March 2014, was supported and endorsed by Datuk Sri Hishammuddin Tun Hussein Defense Minister and Acting Transport Minister.
The group, who began their walk on the 17th of May, 5am, walked for approximately 7 nights and 8 days, with a distance of nearly 300km. This entailed 10 hours of walking per day. The enthusiastic walkers were motivated and greeted by the public as they commenced on this charitable and adventurous journey. The group stopped over in Gurdwaras in JB, Pontian, Batu Pahat, Muar and finally the Gurdwara Sahib Melaka.
We sincerely hope you were able to give your full support and help us in achieving this milestone in bridging the gap between the 2 nations and walk for the Good of all, regardless of race and religion.
Please come walk with us…walk for good. Good Will Walk 2014…
ABOUT OUR WALKERS!
1. DYA SINGH is a renowned InterFaith and World Music Musician. Based in Australia. He is acknowledged as one of the significant musicians in the world today of the Sikh musical tradition. Originally from Malaysia, his father was a renowned Sikh spiritual minstrel and Dya learnt the Sikh songs and the art of singing besides his father from the Gurdwaras beginning at the tender age of five,
"I believe gurdwaras should encourage all to do more exercise, eating the right food and drinking healthy. Health is just as important as spirituality for a more fulfilling life."~Dya Singh
2. AMANPREET KAUR is a law graduate and is currently teaching. She is a volunteer of UNITED SIKHS and also serves as our trustee.
"Education is very important for me. It is the key to break the cycle of poverty. There are many children out there who can't afford to go to school. Alone, I'm not able to help them, but as a team, I hope we can raise funds beyond our expectation to help these underprivileged kids."~Aman
3. Rishiwant Singh aka The Flying Singh is a Radio TV Presenter at RTM. He is a familiar face among Malaysians. Rishi is also a Life coach and Trainer (NLP, Born Rich Programme & The Secret). He has been a part of the UNITED SIKHS team for almost 10 years now and is the Humanitarian Aid Coordinator for the Asia Pacific Region.
"Education for kids has always been the utmost priority for Sikhs, that's why I guess we have so many doctors, lawyers, accountants and educators. We believe education gives life. Kids are our future no matter what religion or race. These underprivileged kids need us,that is what this walk is all about. This walk is also dedicated to the families of passengers in missing flight MH370 while commemorating the most loved humanitarian in Malaysia Sant Baba Sohan Singh Ji. Recognize the human race as one."~Rishi a.k.a The Flying Singh
4. DAVID ATTHOWE is the Head of the Nomadic Lion, walking in length of various countries to raise awareness for good causes. David recently completed his latest walk called Project Malaysia February 2014, a 1100km walk through Peninsular Malaysia. He has been living nomadically in South East Asia for 3 years now.
"We were born with feet not roots. We were all born to move but seem to have forgotten this and many people now live very sedentary lifestyles. We want to encourage people to get back to walking and integrate it into their daily lives because walking is a great way to raise awareness for a cause and at the same time to encourage people to get more active. "~DAVID ATTHOWE aka Nomadic Lion
5. ANTION VIKRAM SINGH MEREDITH aka Vic Briggs, is a world-renowned guitarist from the 60's band called 'The Animals'. Vikram is a Sikh legend, and a music legend. He was also the first westerner to play at the most revered Sikh shrine Golden Temple, Amritsar in 1979 and again in 1980. Vikram is currently residing in Kapaa, Hawaii where he conducts workshops and concerts sessions as a transformational singer, singing Sikh Sacred Kirtan, teaches kundalini yoga and much more. He has been playing the guitar for almost 60 years now and is an inspiration to people all over.
"We hope and pray to Guru Ji that this project is a resounding success of the younger generations' ability of organizing outdoor events and collection of necessary funds for services like UNITED SIKHS and Gurpuri. May this become an annual event and grow like the Barsi itself."~Vikram Singh
6. SUKHVEER SINGH is a Manager at Easytaxi Malaysia. He is also a humanitarian relief coordinator for UNITED SIKHS and has been involved in previous relief missions: Tsunami (Aceh), Earthquake (Pakistan) Floods (Alor Setar) and Cyclone Nargis (Myanmar)
"It is a wonderful opportunity to be able to dedicate my time thus aiming to help the under privileged by joining this amazing cause. We hope to raise awareness among the public especially youths on the issue of humanitarianism. Generosity requires the simple things in life, which ends to be the most valuable deed."~Sukhveer Singh
---
We would like to express our gratitude to all of the below. We would not have been able to do it without you!
Good Will Walk #GWw2014
Supported by :
Gurpuri Foundation
UNITED SIKHS Online Media Coordinator (Malaysia) : Avinash Kaur
GWw2014 Full Distance Walkers :
1. Dya Singh
(InterFaith & World Music Musician)
2.. Antion Meredith Vikram Singh aka Vic Briggs
(Former lead guitarist for The Animals)
3.. Rishi aka The Flying Singh
(UNITED SIKHS Humanitarian Aid Coordinator Asia Pacific)
4.. David Atthowe
(Director of Nomadic Lion)
5.. Amanpreet Kaur
(UNITED SIKHS Trustee)
6.. Sukhveer Singh .
(UNITED SIKHS Humanitarian Relief Activist)
Official Broadcasting Partner :
Simra.fm
Simran.tv
Official Photography Partner :
Union Bliss Photography
Official Health Partner :
Bains Physio
Cell Recipe Plus
Supporting Sponsors :
Pro Ace
MAS
YSA
PSI
Gerak SIkh
Dheensay International Furniture
Mrs. Punjaban 2014
Kelab Rekreasi Angkatan Tentara Udara Sg. Besi