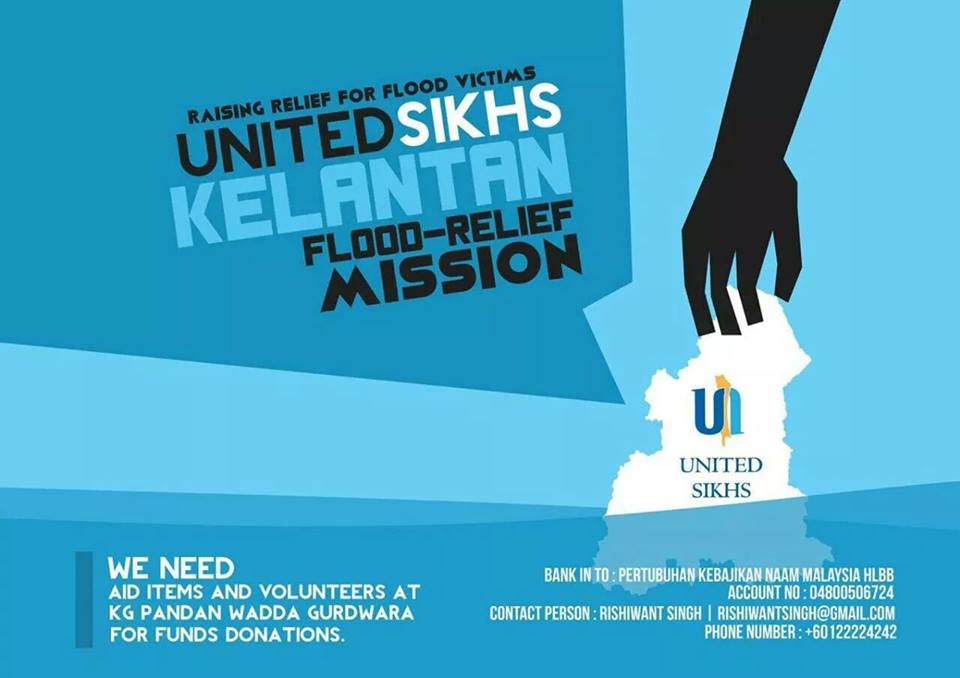 We started the UNITED SIKHS Kelantan Flood Relief Mission on 25th of December 2014 for the flood victims. Â We also discovered that the Temiar orang asli (Malaysian indigenous people) had been cut off from civilisation due to landslides since three months ago. We answered their plight and the UNITED SIKHS Baaj of Humanity Helistar Air Food and Medics Mission took to the skies to answer to the plight of the Temiar natives. In total, we have delivered approximately 100 tonnes to different places. This includes the flood areas such as Kuala Krai, Kelantan and Temerloh, Perak. The Temiar orang asli we provided relief to included the whole village of Kampung Kuala Betis, Kelantan , Kampung Paya Sedayan, Pahang and some other settlements in Kelantan.
Below are Highlights of our Relief Work
1. First mission to Kampung Betis
Jan 2 2015
Ground team led by Swaranpal Singh (Sanny) and Mandeep Singh delivered 4000kg worth of goods to the warehouse in a community hall of Kg Parit.
The ground team also cleared a site by the river side for the helicopter landing zone.
Jan 3 2015
The UNITED SIKHS Baaj of Humanity Helistar took off from Subang Airport at 8.20am returning at 7.15pm.
The mission was flying six sorties from Kampung Betis base camp to eight locations serving eleven orang asli settlements deep in the jungles of Gua Musang.
Sending approximately 350 to 500 kg of aid per trip totaling 2350 kgs to 278 families more than a thousand people who have been cut off from aid for 1 to 3 months due to landslides.
The flood that lasted 10 days devastated their tapioca and hill paddy and veggie crops.
The Centre for Orang Asli Concerns coordinator, Colin Nicholas, who flew with UNITED SIKHS today says he was unable to reach them for one week, we not only solved the problem of access for now but surpassed his expectations by giving 110 percent to this missions success.
Thanks to the ground support personnel and others responsible for packing in Kg Pandan Wadda Gurdwara for sending and Malaysians of all races donating the aid.
A special thanks to our Orang Asli Temiar friends at Kg Parik in RPS K. Betis , Captain Bagawan Singh (Managing Director and Pilot of Helistar), Swaranpal Singh (Person who led the ground team), and Colin Nicholas (Centre for Orang Asli Concerns coordinator) for amazing work in collaboration in this mission.
In total, 2500kg of goods delivered to the warehouse and 2350 kg goods taken to be delivered by air.
2. Second Mission
Jan 4 2015
6000 kg of goods delivered by MDJ Dev to the warehouse in a community hall of Kg PariK.
Served about 100 families in Gua Musang and Kuala Betis.
Jan 7 2015
We did 6 sorties serving 6 villages which are
Tapai
Bering
Wok
Ber
Perawas(Balar)
Bihai
Ground and air crew met at landing zone in K.Betis.
Ground crew took approximately 7 and half tonne by land and stored in warehouse.
We flew the aid into the cut off interior with another Helistar aircraft called Baaj 2 as the main Baaj of Humanity was being serviced.
15 flights done including from Subang to Kuala Betis and Kuala Betis to Subang.
In total, 1500 kg delivered by air and 7500 kg delivered to the warehouse in a community hall of Kg Parik.
Jan 10 2015 & Jan 11 2015
Baaj of Humanity Helistar helped to transport more than 4 tonnes of goods sponsored by Allianze Bank.
Jan 12 2015
MDJ Dev took approximately 4000kg and Hasheel Sidhu took 3000kg by land to be stored in the warehouse and also delivered to some families in K . Betis.
3. Third Mission
Jan 15 2015
UNITED SIKHS Baaj of Humanity Flying Medics mission was a callobration with the Citizen's Disaster Navigation Centre and 4×4 team from Selangor Adventure Club.3 Medical teams consisting of 4 doctors each went to 6 locations which are
Pos Tuel
Pos Dakoh
Pos Belatim
Pos Hau
Kg Kuala Wook
Approximately 600 people were treated including one medivac for a critically ill child to Gua Musang hospital.
The child has now been transferred to Kuala Krai Hospital.
Also sent food aid worth 150 kg to Kampung Remau.
Jan 16 2015
1500 kg of food delivered to Kampung Simpor dan Kampung Balar.
3 teams of doctors from Nanyang Foundation led by Dr Tan, Dr Subash, Brother James and Mr Lim assisted by Sister Kathy. They went to Kampung Balar.
2 teams of doctors from Naam Medics who started a free clinic in Chow Kit led by Dr Mandeep and Dr Rupinder. They visited Kampung Simpor.
Dr Harwant Singh and his team visited Kampung Tameng.
Approximately more than 500 Temiar Orang Asli in total were treated.
In total, we reached reached and supplied 100 tonnes of goods and medicines to flood victims, including, approximately 5000 Temiar people who have been cut off from civilization for three months.