MALAYSIA NEEDS YOUR PARTICIPATION IN THE GOOD WILL WALK NOW MORE THAN EVER. WALK AND SPREAD THE MESSAGE OF KINDNESS, HUMILITY, RESPECT & COMPASSION.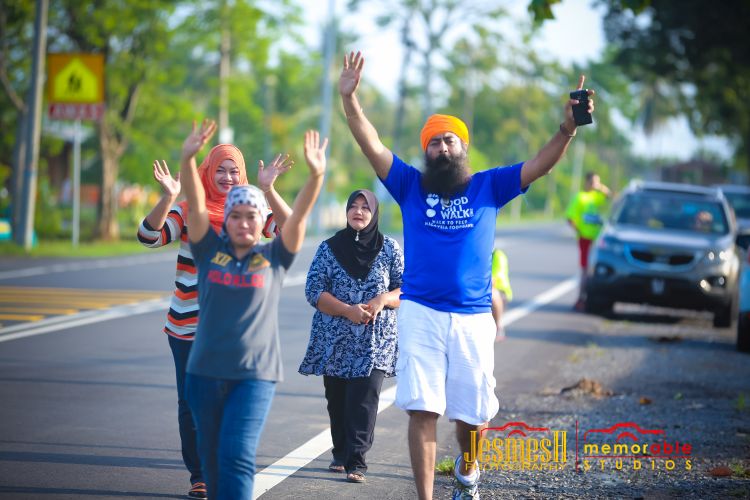 Kudos to the participants and support team of the Good Will Walk 2015 who have just completed Day 3 and will be embarking on Day 4, 5, 6, 7 and climaxing on Day 35. Walking through stifling heat and heavy downpour, you are spreading and sharing a very important message with humanity and fellow Malaysians. It is a message of love. It is a message of humility. It is a message of caring. It is a message of sharing. Never in the history of this country, has there been a greater need for people of all races and social strata to walk in unity. This beloved nation of ours needs a strong message of love, understanding and compassion beyond colour, race, faith and political affiliations. We need it now more than ever!
The Good Will Walk: Walk To Feed is more than just creating awareness of the plight of the abject poor, the hunger pangs of the hungry and the ndless epain of the homeless. It is more than just raising funds and food. It is more than showcasing our beautiful rural landscape. It is more than just about promoting the concept of Fit Malaysia. It is more showcasing CSR initiatives.
The Good Will Walk has taken on another equally important dimension – nation building. Healing broken lives. Forgiving the misguided. Exercising rationality at all times. Seeing the divine presence in each and every human being.
Above all, it is also about bringing the rakyat, the rich and poor, the powerful and weak, the politicians and ordinary mortals, the urban and rural population, the young and old, the traditional and contemporary together. It is about uniting Malaysians to see one another as equals in this beautiful land of ours.
Every Malaysian from across the political and social divide can stand out and make a commitment to nation building. A commitment to caring and sharing. A commitment to compassion and love. All it takes is to support, contribute and participate in this laudable cause.
You can register to join the walk. You can contribute RM100 for a Good Will Walk t-shirt and engage your friends and community. You can donate in cash or in kind ( dried food items) to the Malaysia Foodbank Organization. You can sponsor or adopt a walker to participate. You can challenge your favourite politician, celebrity or community leader to walk for the good of all. Walk to Care. Walk to Share. Walk to Feed.
Please be a part in making history by participating and sharing the story of the Good Will Walk 2015:Walk To Feed. For The Malaysia Foodbank. Forward this message, details of the Good Will Walk website and Facebook with your friends, relatives, working colleagues and strangers as well.
Engage your local Member of Parliament and State Assemblyman to participate and contribute to this nobel cause. Let your elected representatives know that their participation and support for the Good Will Walk 2015: Walk To Feed means a lot to the rakyat. It is about time our YBs joined the rakyat and participants as the Good Will Walk 2015 journeys through your city, kampung and town.
If we can get the participation and support of every elected representative, community leader, Cabinet Ministers, the Deputy Prime Minister and Prime Minister to join the ordinary rakyat and spread the message of love, compassion, caring and sharing , we would moved an entire nation and its population to tears, holding hands and walking in unity for the common good of all.
This is your moment, my moment , our moment of creating history for generations to come. The Good Will Walk 2015 needs your support. Let's make a dent in the Universe.